UUP calls for Peter Robinson public apology over Islam remarks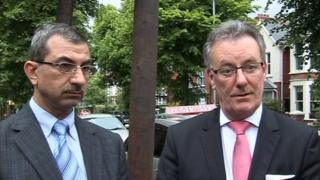 The Ulster Unionist leader Mike Nesbitt has called on Northern Ireland's first minister to make a public apology over comments he made about Muslims.
Peter Robinson was criticised for defending a Belfast pastor who called Islam as "heathen" and "satanic".
Mr Robinson later said his own remarks had been misinterpreted and made a private apology to NI Muslim leaders.
Mr Nesbitt said a public apology from the first minister would be helpful in building community relations.
Koran
Speaking on a visit to the the Belfast Islamic Centre, the UUP leader said: "I think that the first minister has to speak representing all the people of Northern Ireland and I accept that's a challenge.
"I think he got it wrong on this occasion and I think like all human beings, nevermind politicians, we get things wrong.
"We say things we don't really mean or express them in ways that perhaps we could have thought through better," Mr Nesbitt said.
"I think it would be useful if the first minister was to make a public apology."
The UUP leader arrived at the centre carrying a copy of the Koran and spent over an hour speaking to members of the Islamic community about a range of issues, including the events of the past few weeks.
Dr Raied Al-Wazzan from the Belfast Islamic Centre supported the UUP leader's call to Mr Robinson.
"Definitely a public apology would be helpful.
"We already accepted his apology in private and whenever he (Mr Robinson) comes to the centre and meets more Muslims he could make up his mind," Dr Al-Wazzan said.
Sharia law
The controversy began last month, when Belfast pastor James McConnell held a church service during which he said he did not trust Muslims.
Last week, Mr Robinson came under fire for defending Mr McConnell's remarks, telling the Irish News he would not trust Muslims involved in violence or those devoted to Sharia law.
However, the DUP leader said he would "trust them to go to the shops" for him.
Mr Robinson later clarified his own remarks and met Muslim leaders in Belfast to apologise privately.