Northern Ireland Assembly members in Sir John Gorman tributes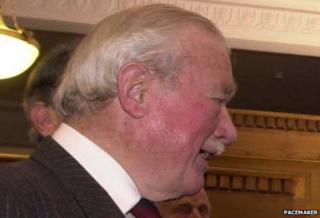 Assembly members have paid tribute to the former Deputy Speaker, Sir John Gorman.
The Ulster Unionist politician and decorated World War II veteran died on 27 May. He represented North Down in the assembly from 1998 to 2003.
Speaker William Hay said the constant theme of Sir John's life was public service.
Mr Hay said that, as deputy speaker, Sir John enjoyed "the same huge respect as he did within the wider community".
UUP leader Mike Nesbitt said Sir John's life was one of "public service of the highest calibre" and he was "a soldier of whose feats of derring-do were simply legendary".
He said Sir John's parents were both unionists and Catholics and that he had remained faithful to his religion.
Mr Nesbitt decribed how Sir John was awarded the Military Cross for an action in Normandy when he rammed a German Tiger tank with his Sherman tank.
Following the war, Sir John served as a district inspector in the RUC and subsequently joined the private sector. He was later head of the Northern Ireland Housing Executive.
The DUP's Peter Weir said two words summed-up Sir John's life: "service and duty".
Mitchel McLaughlin of Sinn Féin said that Sir John had always managed to keep his cool during a time of tremendous political challenges.
"I will always fondly remember him," he said.
The SDLP leader, Alasdair McDonnell, paid tribute to "the massive contribution he made to society".
Stephen Farry of Alliance said Sir John was "very much a servant to all of Northern Ireland".
Basil McCrea of NI21, Jim Allister of TUV and Green MLA Steven Agnew also paid tribute and expressed their condolences to Sir John's family.