Soldier faces Custom House Square, Belfast, rape charge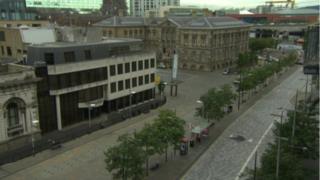 A soldier has been remanded into custody accused of raping a woman in Belfast city centre.
Ryan James Fairlamb, 21, faces a total of five charges in connection with the alleged sex attack at Custom House Square early on Saturday morning.
As well as rape, he is charged with a further attempted rape, common assault and two counts of sexual assault.
Mr Fairlamb, with an address at Ballykinler Army camp in County Down, was remanded into custody.
Asked if he understood the charges against him the accused did not reply.
A defence solicitor confirmed, however, that his client was aware of the allegations.
Although no mention was made of the accused's job, the charge sheet listed his occupation as army personnel.
A judge was told he would not be seeking bail at this stage.
His solicitor said: "The defendant would welcome a couple of days to make inquiries about suitable accommodation before making a bail application."
Mr Fairlamb will appear in court again by video-link on Wednesday.