Belfast folk musician Francis McPeake faces abuse charges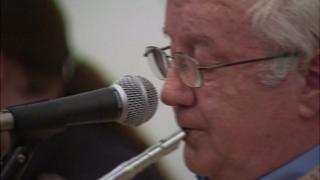 Folk musician Francis McPeake has gone on trial in Belfast accused of 12 charges of child sex abuse.
It follows alleged offences with a girl who was under the age of consent.
The 72-year-old, formerly of Eliza Street Close in Belfast, was aged about 67 at the time of the alleged offences
He has denied the teenager's claims.
His alleged victim, who cannot be named for legal reasons, has started giving evidence to the jury.
The complainant, who is now aged 20, told Belfast Crown Court she "looked up" to Mr McPeake and how the musician was a "role model" to her.
She also said how she "felt privileged" when he took her to an exhibition on his famous family.
Opening the case against Mr McPeake, a Crown prosecutor said the issue in this case was not one of consent, but rather that "this young child was taken in by McPeake, he used her and abused her for this own sexual needs".
He also urged the jury to undertake a "cool, calm assessment of the evidence" and said "if someone is 15 they are a child and you just can't do these things to a 15-year old child.
"The central issue is, did McPeake do these things?"
The girl went to the police in December 2012, and Mr McPeake voluntarily attended for interview in the spring of 2013.
Mr McPeake's solicitor read out a statement on behalf of his client, that said: "I have never done anything with this child."
He branded her allegations as "false, malicious and without foundation", claimed he and his family had suffered due to a "campaign of harassment" from her and her relatives since 2010, and added: "She is attempting to destroy my life."
He then replied "no comment" to questions that were put to him during interviews.
The case continues.