NI Human Rights Commission: Inquiry into emergency health care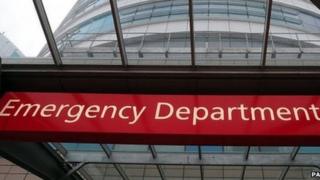 The Northern Ireland Human Rights Commission is to investigate whether patients who encountered problems in A&E had their human rights violated.
It is the first time that such an inquiry has ever been held.
Members of public and those working in the health system, including managers, will be asked to give evidence.
Its aim is to identify the extent to which the human rights of people seeking emergency care are respected, protected and fulfilled in practice.
The inquiry will also identify good practice in local emergency departments.
This is a highly significant move and reflects just how seriously the Human Rights Commission considers what has been happening in some of the emergency departments in Northern Ireland's hospitals.
The commission told the BBC that it wants to hear from health care staff, especially whistleblowers, whom it can protect.
A confidential free phone line comes into operation on Tuesday and will be open for the next three weeks.
In September, public hearings will begin taking evidence from the public, health workers, managers, and anyone who has a story to tell the inquiry about their experience of A&E in Northern Ireland.
The commission will also consider the human rights obligations of the Northern Ireland Executive and other public authorities.
NIHRC Interim Chair John Corey said this was a significant piece of work that would receive international attention.
"We want to hear from anyone who has recently experienced emergency healthcare, and in particular from those who have sought care from an Accident and Emergency Unit. We also want to hear from the staff who provide this vital service."
While health officials, including the government, can be held to account, according to the commission the inquiry not a witch hunt.
It will be calling government representatives, public officials, staff, trade unions, patients and family members to give evidence during the public hearings across Northern Ireland.
According to the commission, it could not ignore the wealth of public stories that were being told via the media about patients' experiences in A&E.
The commission told the BBC that the inquiry was not a knee-jerk reaction to the powerful radio and television interviews that have been broadcast recently.
It said that while the interviews have had an impact, the commission has been putting together the remit for the inquiry over the past seven months.
Mr Corey said: "The inquiry will consider the total experience of emergency health care from a human rights perspective.
"This includes the individual's rights to respect for dignity, access to information and their involvement in decision-making."
The inquiry panel will include Commissioner Marion Reynolds and Prof Paul Hunt, who is the former United Nations Special Rapporteur on the Right to Health.
The commission will publish its final report and recommendations to the Northern Ireland Executive in April 2015.
Evidence can also be submitted via the NIHRC website or by using the confidential free phone line: 0800 028 6066.