Party balloons trigger Donaghadee lifeboat rescue bid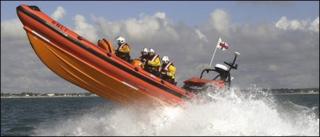 A bunch of party balloons triggered a Royal National Lifeboat Institution rescue operation at sea on Saturday night.
Donaghadee's All-Weather Lifeboat, Saxon, launched at about 20:00 BST after reports of an object in the water off the coast of the Copeland Islands.
A witness described what sounded like people in the water. The charity took the decision to launch its £2m lifeboat and, at full speed, it was at the scene within 15 minutes.
The crew found a bunch of helium-filled party balloons that had come down in the sea.
Lifeboat coxswain Philip McNamara said: "While this was a preventative operation, the lifeboat volunteers prefer to attend at an early stage to avoid any risk to life. An object in the water can be a danger to shipping."
In 2013, RNLI lifeboats were launched 1,087 times across Ireland. They brought 1,278 people to safety.
On 10 occasions, lifeboat crews were also called upon to rescue animals, including four dogs, two sheep, a cow, two whales and a dolphin.