Peter Robinson 'should apologise publicly' over Muslim remarks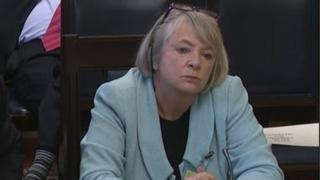 Northern Ireland First Minister Peter Robinson should apologise publicly for comments he made about Muslims, an equality commissioner has said.
The first minister has been criticised for defending a pastor who described Islam as "satanic" and "heathen".
Mr Robinson later clarified his remarks and said he had been misinterpreted.
But Jane Morrice, Deputy Commissioner of the Equality Commission, said the first minister did not champion equality when he supported the pastor.
Pastor James McConnell told a service at his north Belfast church that he did not trust Muslims.
'Caused offence'
In an interview with the Irish News on Wednesday, Mr Robinson said he would not trust Muslims involved in violence or devotees of Sharia law, but he would "trust them to go to the shops" for him.
On Thursday, Mr Robinson met a delegation of Northern Ireland's Muslim leaders who said they accepted a "sincere" private apology from him over his remarks.
Ms Morrice told BBC Radio Ulster's Sunday Sequence programme: "The first minister has recognised that he has caused offence and hurt and outrage by what he said.
"I think a public apology would be very valuable," she added.
'Lesson learned'
"He is not being the champion of equality following what's happened over the past two weeks, but I think he may become, if we all push very hard at that," she added.
"On this issue he very obviously did not champion equality, but the Equality Commission will ensure that that changes."
Ms Morrice acknowledged that Mr Robinson had apologised privately to the Muslim leaders but said "a public apology would be even better".
She also said she did not believe it was a resigning matter for Mr Robinson, but one that should be considered as a "lesson learned".