Homeless charity stages Belfast City Hall sleep-out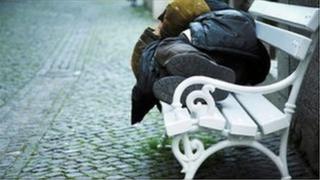 A Belfast-based charity is staging an overnight sleep-out to raise funds and awareness about homelessness.
100 Help the Homeless will be "sleeping rough" outside Belfast City Hall on Sunday 1 June.
They are hoping for a large turn-out of people to support the fundraiser.
The charity was formed in early 2014 by four people who had worked collectively within the homeless sector for about 10 years.
One of the organisers, Kyle Heffernan, said that more than 100 people had registered for the event which will run from 14:00 BST on Sunday until 08:00 BST on Monday.
"We want to raise awareness and to advocate on behalf of the homeless," he said.
"We want to set up an advocacy for the guys who 'slip through the cracks'. It would be a voice for the homeless run by their peers - other guys who have been there and done that, themselves."
There are no specific figures about how many people die as a result of homelessness but another homeless charity, the Welcome Organisation, said in May that at least five people who had used homeless services in Belfast since the start of 2014, had died.
The group said rough sleepers were dying due to mental and physical illness caused or made worse by the harsh conditions.
The life expectancy of a homeless person is around 47 years.