Quinn family denies hiding millions from IBRC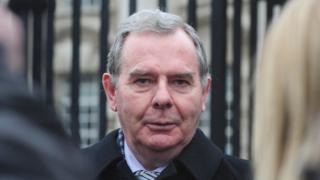 The family of Sean Quinn, who was once the richest man in Ireland, has denied hiding up to 500m euros (£407m) during a dispute with a former bank.
They released a statement denying new allegations which emerged during a hearing in a Dublin court on Friday.
The family said the "scurrilous" claims concerned millions in gold and cash.
The Quinns are involved in a long legal battle with the Irish Bank Resolution Corporation (IBRC), which briefly took over the affairs of Anglo Irish Bank.
The failed bank had to be rescued by the Irish government in 2009, which ultimately cost Irish taxpayers around 30bn euros (£24bn).
The state-owned corporation which replaced it has pursued the Quinns over claims the family owed it two billion euros (£1.6bn) following Anglo's collapse.
Lawyers acting for IBRC told Dublin's High Court on Friday that it had struck a deal with unidentified "informants" who had given information about the Quinns' alleged hidden assets.
The lawyers also told the Dublin judge that they had made applications to foreign courts, seeking information about email traffic between parties they allege are involved in a conspiracy to conceal assets.
In a statement on Saturday, the Quinn family described the allegations as "completely groundless".
The family said it had already "disclosed the full extent of its assets to the court".