Air Passenger Duty: NI passenger charged non-existent tax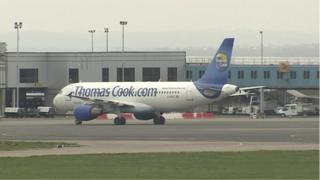 The travel firm Thomas Cook Airlines is to check if its customers have been incorrectly charged for an air tax that no longer exists in Northern Ireland.
Air Passenger Duty - a tax on long haul flights from NI - was abolished with effect from January 2013.
The company's review follows a query from a passenger who was charged over £800 for family flights from Belfast to the US since the abolition of the tax.
Thomas Cook has apologised to the customer and refunded the charges.
The passenger, who did not want his full name used, said he paid Air Passenger Duty (APD) on flights to Orlando for himself and his family twice in the past two years, after the tax was abolished.
Darren told BBC Radio Ulster's On Your Behalf programme: "I noticed that they had charged £67 for the seven of us last year."
He said he had paid a total of £469 in APD for his seven family members last year and a further £335 this year, amounting to a total bill of £804.
A spokesperson for Thomas Cook Airlines said: "We'd like to apologise to our customer for the error made on his bookings through our flight-only website and confirm that he has been refunded any incorrect charges made."
The spokesperson added that the company is "currently reviewing if any other customers who booked flights online were affected by this error".