Jeremy Kyle Show lie detector test applicant convicted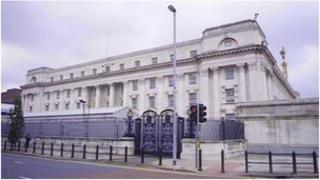 A man who wanted out of prison to take a lie detector test on the Jeremy Kyle Show has been convicted of shouting sectarian slogans in Belfast.
Frederick Boyd, 22, formerly of Mark Street in Newtownards, County Down, failed to turn up for his case.
But a judge ruled there was enough evidence to find him guilty of disorderly behaviour and doing a provocative act.
A warrant was issued to have him arrested and brought to court.
During a previous bail hearing, prosecutors said he scaled a pillar at the front of Belfast City Hall on 23 January while draped in union flags and shouted obscenities at passers-by.
Boyd claimed loyalist paramilitaries had put a gun to his head and told him to do it.
At that hearing, it was claimed both Boyd and his grandmother had suffered beatings at the hands of paramilitaries.
He was allegedly further targeted and injured while in custody over an unconnected incident.
Bail
The court was told he was desperate to get out of prison so he could clear his name on those allegations by taking a lie detector test on Jeremy Kyle daytime television chat show.
Boyd had been granted bail last week on condition that his grandmother moved in with him at his new address in Larne.
But as the contested hearing on the City Hall charges was called on Friday, the defence counsel confirmed his client was not present.
"There was some sort of incident last night at his bail address, a fire was started outside the premises," the barrister said.
"He's been subject to paramilitary attacks in the past, but I'm not in a position to say if this was a life-threatening incident."
A prosecution lawyer pressed for the case to proceed in his absence.
CCTV footage and witness statements were available, she said.
After studying the material, District Judge Rosie Watters confirmed: "There will be a conviction in relation to each of the offences."
She then ordered a warrant to have Boyd arrested.