Lisburn police station: Investigation after David McGowan dies in cell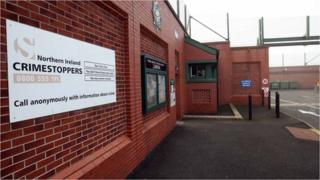 The Police Ombudsman is investigating the death of a man in a cell at Lisburn police station in County Antrim.
David McGowan, 28, from Lisburn, had been arrested after an incident on the Beersbridge Road in east Belfast late on Thursday night.
He died in the early hours of Friday morning.
Investigators have been at the scene throughout the night and have spoken to his immediate family.
In a statement, the Police Ombudsman said: "At approximately 2.00am this morning the office was alerted by the police that a man had died whilst in police custody.
"In line with normal procedure we immediately launched an independent and impartial investigation into the circumstances of the death."
Later on Friday, officials from the police ombudsman's office will be speaking to witnesses to the incident in which the arrest took place and "investigating the actions of the police following the arrest up to the point at which the man was discovered in the police cell".
A report will be published after the investigation is complete.