Mark H Durkan gives Newry development green light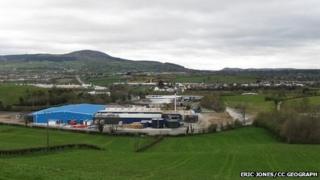 A major mixed-use development on the outskirts of Newry has been granted planning permission by Environment Minister Mark H Durkan.
The permission is for a site at Carnbane Way.
The Hill Partnership has proposed a mix of 70 industrial and business units, a supermarket and 14 houses.
Mr Durkan said he was satisfied the existing city centre retail offering was strong enough to compete with the new supermarket.
He added that the development should provide an economic boost for the area and "will bring many jobs".
The development was opposed by the NI Independent Retail Trade Association (NIIRTA) and Newry Chamber of Commerce.
They fear it will damage city centre businesses.
Deborah Loughran, president of Newry Chamber of Commerce and Trade, said it was an "outrageous" decision which had the "potential to decimate" the city centre.
Glyn Roberts, chief executive NIIRTA, said the decision was in "complete contradiction" to the minister's own policy of "Town Centre First".