Rathlin festival celebrates island's maritime history
By David Maxwell
BBC News NI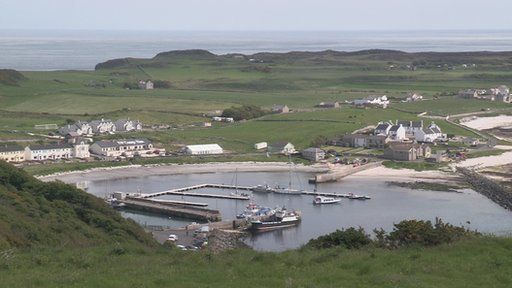 Rathlin Island's nautical history is being marked with a number of special events as part of the Rathlin Sound Maritime Festival.
The festival runs until Sunday 1 June, and events being held on the island and in Ballycastle, County Antrim, include music, storytelling and a boat race.
On Rathlin island, life revolves around the sea conditions, especially in the winter, when residents must sometimes cope for days without supplies from the mainland.
Over the centuries the island has also offered help to those in difficulties on the sea.
There are around 60 documented shipwreck sites around the island.
In St Mary's parochial hall, above Church bay on Rathlin, there is an exhibition of shipwreck memorabilia.
It was all collected by the late Tommy Cecil, and his son, Douglas Cecil, said it was an important collection.
"There's a selection (of artefacts) from a wide variety of shipwrecks - from sailing ships to a First World War armoured cruiser HMS Drake.
"One of my favourite pieces would have to be a bottle of whiskey of the shipwreck Girvan, a sailing ship that was wrecked in 1884 outbound from Glasgow to Australia."
The items are only available to view until the end of the festival, but Douglas said his family want to find a permanent exhibition space for the collection on the island.
"It's a unique part of our maritime heritage that does need to be preserved…without these artefacts it's very easy to let history forget the story of what happened on the waters around the island."
As part of the festival, teams in Ballycastle and Rathlin are constructing traditional fishing boats called Drontheim.
The teams will race against each other on Sunday.
Fergus McFaul is part of the Rathlin team and he says they are working round the clock to get the boat finished.
"It is a traditional boat that would have originally come from the Norway direction.
"It's about 22ft (6.7m) in length and can either be propelled by oars or sail. There's a big connection with these boats (here on Rathlin)."
Fergus, a local businessman, said he believes Rathlin can attract more visitors by reviving traditional crafts such as boat building.
"Some of those traditions are getting lost and they've slipped away through the generations.
"People aren't going to sea for fishing because the industry is at a low ebb. So I think this is a good way forward for us, it brings people over and they are happy to see local people doing local things."
A large marquee in Church bay has been playing host to many events on the island, including a variety of musicians.
It's the second year of the festival, which centres on Ballycastle for the first week and Rathlin during the second.
Michael Cecil, from the Rathlin Community and Development Association, said the festival has helped the island economy, which relies on tourism.
"The community really are getting into it. I have had much more help this year. New businesses have been set up providing boat trips, accommodation and catering."