Londonderry explosion: 'Firebomb' explodes in Everglades Hotel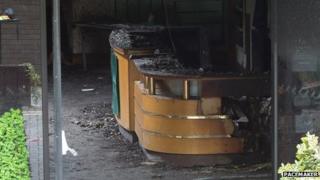 Bombers who attacked a hotel in Londonderry on Thursday night have been called cowards by the local police commander.
A masked man threw what police have described as a "firebomb" into the reception area of the Everglades Hotel, in the Prehen area of the city.
It was evacuated after the device was reported at 23:15 BST on Thursday.
The device exploded a short time later when Army bomb experts were working to make it safe.
No-one was injured in the explosion but the reception was extensively damaged.
PSNI Chief Superintendent Stephen Cargin said: "A masked man went into the hotel and left a hold-all at the reception desk saying he was from the IRA.
'Ball of flames'
"He warned that people had 40 minutes to get out. He then ran out of the hotel. No recognised code word was given
"He then got into a red Volkswagen car which was later burnt out in the Glendara area of Derry.
"The hotel did a great job in evacuating the building. They have no doubt saved lives."
Mr Cargin told BBC Radio Foyle: "It was what we would describe as a firebomb. When the Army technical officer started to work on the device it burst into a ball of flames and engulfed the place in flames.
"It has caused extensive damage to the hotel. It doesn't bear thinking where we could be today. The army technical officer is ok.
"The hotel had people evacuated within about ten minutes, which is a remarkable job.
"The whole reception area is damaged and a lot of smoke and water damage throughout the building. This is an attack on the people of this city.
"We had a PSNI recruitment event at the hotel recently but we will be keeping an open mind here as to who is behind this attack.
"These people are cowards."
Condemning the attack, Deputy First Minister Martin McGuinness said: "Derry is a place looking to the future and those promoting and building the changing city will not be held back by those living in the past.
"Those behind this attack have nothing to offer and should end their futile actions now."
Hotel guests were transported to alternative accommodation in Derry.
Gary Rutherford witnessed what happened on Thursday night.
"We had a death in the family and I parked outside reception to leave family members off," Mr Rutherford told BBC Radio Foyle.
"A man ran past the car with a hoodie and a hold-all. He threw the bag at the desk.
"It wasn't until he came out again, we realised his face was covered up.
"I suddenly realised what had happened and I went to get out and run after him. Thankfully my wife stopped me.
"It was very shocking. Someone then set off the fire alarm after I called the police. The place was then evacuated.
'Mayhem'
"It was quite confusing at the time for most of the guests because they were in bed. It was mayhem.
"It is a very difficult time for my family anyway due to a bereavement. We are preparing for a funeral today.
"Some of my family couldn't get to their medication inside too so we ended up in A&E too. It's emotional enough when you lose a family member. This made it even more difficult.
"It's really hard not to get angered. Everyday people do not need this in their lives."
Victoria Road has been reopened.
Secretary of State Theresa Villiers said: "I totally condemn this attack. Such attacks can have no place or justification in our society. It was pure luck that no one was hurt or injured.
"Those responsible have nothing to bring to their community or Northern Ireland and I urge anyone with information to bring it to the police."
Foyle MP Mark Durkan said the explosion "is an attack against the whole city".
"So many people are working hard to move the city forward, but those behind this device are trying to drag us all back to worse times.
"Such methods demonstrate only a negative, violent capacity, not a viable strategy or credible rationale.
"We must be united and strong in rejecting their ways, and affirming peace and progress as our chosen determined collective right."
DUP councillor Gary Middleton said it was fortunate no-one was killed.
"There were so many lives put at risk last night. This is completely unacceptable.
"We must commend the work of the staff at the hotel and the swift work of the PSNI."
Justice Minister David Ford described the incident as a "reckless attack" carried out by those with "a total disregard for life".
"Thankfully, primarily because of the swift action of the hotel staff, there have been no injuries," Mr Ford said.
"I know that the overwhelming majority of Derry people will be appalled by this attack, and we stand with them against those who want to stop their city moving forward."