Aer Lingus: Cabin crew strike affects 30,000 passengers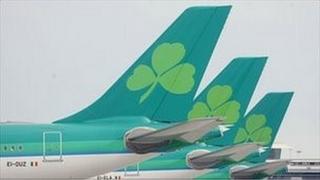 Around 200 flights at airports in the Republic of Ireland have been affected by a strike by Aer Lingus cabin staff.
Crew members, who are in dispute with the airline over work rosters, are picketing airports at Dublin, Cork and Shannon for 24 hours.
Flights involving around 30,000 passengers have been re-scheduled at the beginning of the busy bank holiday weekend.
The industrial action does not affect Aer Lingus flights in Northern Ireland.
It is estimated that the strike will cost the company about 10m euro (£8.1m).
Management and cabin crew are locked in a dispute over working hours, with trade union Impact complaining that its members are being left exhausted by the current rostering arrangements.
Aer Lingus described the industrial action as unwarranted and unnecessary and accused cabin crew of driving customers into the arms of its competitors.
"Aer Lingus cabin crew enjoy some of the most favourable working conditions in Ireland," a spokesperson said.
'Erratic nature'
Several hundred striking workers marched on Friday to the airline's headquarters at Dublin airport to deliver a letter of protest to Aer Lingus's chief executive Christophe Mueller, who was booed by the rally.
"For three years we have raised concerns about the erratic nature of our rosters," the letter said.
"We have become accustomed to the chaotic work patterns that are a direct product of those rosters, to the point where we understand the detrimental effect they are having on cabin crew, and the corrosive effect that they are having on the airline too."
Some cabin crew claim the rosters were taking a toll on their family lives and that the action was a last resort.
Aer Lingus has brought in outside crew and planes in an attempt to minimise the disruption.
Pilots at the airline are backing cabin crew and informed the airline they would not co-operate with alternative plans to carry passengers.
"We need to develop another way of doing business that doesn't involve invoking strike action and mass disruption to customers," the Aer Lingus spokesperson added.
"Aer Lingus is doing everything possible to minimise the effects of this disruption and we apologise to our customers for the uncertainty they have had to endure."
A meeting between representatives of the cabin crews' union, Septum and Aer Lingus is scheduled for next week.
The union, however, has not ruled out further industrial action.