Heating 'biggest worry' for Northern Ireland pensioners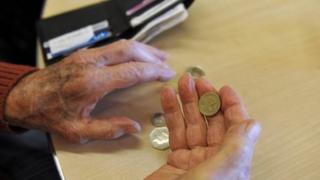 One in two Northern Ireland pensioners has to cut down on essentials, such as food, to cover the cost of heating, according to Age Sector Platform.
The charity is holding the annual Pensioners Parliament in Belfast later.
It said the executive needs to do more to help those who are struggling to keep warm.
Michael Monaghan, chair of the NI Pensioners Parliament, said the phrase "heat or eat" was a reality for some pensioners in Northern Ireland.
"During the last four years of the Pensioners Parliament, the biggest worry for older people has been keeping warm in winter. The executive must do more to assist older people with their heating bills," he said
"Today we will be tabling a number of motions which will call upon government to address issues such as Northern Ireland's reliance on oil, government's focus on energy efficiency schemes and the lack of financial assistance for pensioners here compared to the rest of UK and the Republic of Ireland.
"Currently, older and vulnerable pensioners in both Great Britain and the Republic of Ireland are entitled to an allowance towards their annual electricity bill.
"Pensioners in Northern Ireland receive no such assistance and we believe this is totally unjust."