ESA: John O'Dowd scraps Education and Skills Authority plan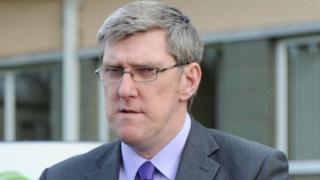 Stormont Education Minister John O'Dowd is planning to replace Northern Ireland's current five education boards with a single body and one chief executive, the BBC has learned.
Mr O'Dowd has admitted he has failed to convince unionist parties to accept the Education and Skills Authority (ESA).
The body was first proposed in 2007 but missed a series of deadlines.
This new body would simply be a larger version of the current boards, with the same powers.
Controversial elements
Plans for a single education authority with greater powers than the current boards ran into problems over the question of who would represent controlled schools attended mostly by Protestants, and whether voluntary grammar schools would lose some of their autonomy.
After seven years and £17m spent preparing for ESA, the minister has given up hope of getting the necessary political approval.
However, he needs to put in place some changes by next April to keep in line with the new district council boundaries.
The paper will have to be approved by the Stormont Executive, but Mr O'Dowd will be hoping that he has removed enough of the controversial elements to win agreement.
The chairman of Stormont's education committee, Mervyn Storey, said he would wait to see the paper presented to the executive before deciding whether to support it.