Gerard Devlin jnr refused bail over Notorantonio attack claim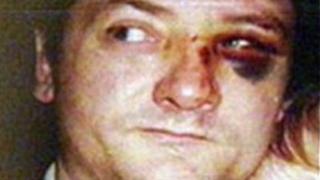 Bail has been refused to a 24-year-old man accused of a screwdriver attack on his father's killer.
Francisco Notorantonio was jailed for the manslaughter of west Belfast man Gerard Devlin snr in 2006.
Mr Devlin's son, also called Gerald, of Donegall Road, is charged with assault and having an offensive weapon, after an incident on the Glen Road last week.
Refusing bail, the judge said the two families had been involved in an "inflammatory dispute" for years.
Prosecution lawyers said Mr Devlin initially attacked Notorantonio's car as it sat in traffic.
Mr Devlin was dragged away but returned to carry out an assault as the pair fought in the street for about 10 seconds, the court was told.
'Cooling-off period'
Although Mr Devlin claimed to have acted in self-defence, CCTV footage was said to contradict his version of events.
Opposing bail, the prosecution cited the risk of further offending.
A defence lawyer said it had been a chance encounter, adding that abuse was allegedly first shouted at Mr Devlin.
"He found what he describes as the taunting to be overwhelming," the lawyer said.
He said Mr Devlin has had nothing to do with any other incidents linked to the feud.
The judge said "a substantial cooling-off period" was needed.
"Consideration might be given, and I emphasise the word might, to a bail address a long way from Belfast and some chance of commencing a life elsewhere, but at present there's no prospect whatsoever of bail being granted to this applicant," he said.