Boats to be raced in Rathlin Sound Maritime Festival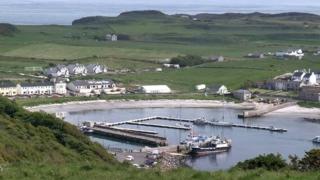 An influx of visitors is expected on Rathlin Island off the County Antrim coat over the next few days.
The Rathlin Sound Maritime Festival ends this weekend with a number of special events on the island.
They will include live music and a boat race between the island and Ballycastle using traditional craft which have been built during the festival.
Organisers have said the second year of the festival has given a boost to the island's economy.
"The local economy's obviously a big thing over here. From the likes of fishing and farming, it's diversifying into tourism, the same as it is along the rest of the coast," Fergus McFaul of the festival said.
"This is kind of tying the two together between fishing and tourism and I think it's a real good way forward for us."
Caroline Carey, tourism development officer of Moyle District Council said, "We are all very excited for the festival to begin so we can welcome visitors to this fabulous part of the Causeway Coast where they can enjoy all the wonderful maritime- themed activities on offer."
Rathlin Sound is the body of water that separates Northern Ireland's only inhabited island from Ballycastle and the mainland.