Colin Houston resigns from UUP after suspension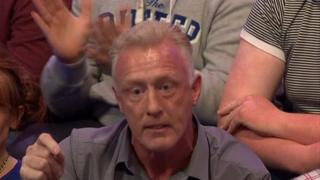 An Ulster Unionist Party member who ran for election last week has resigned from the party after he was suspended.
Colin Houston stood as a candidate in the local elections in Belfast's Oldpark DEA, but he was not elected.
A UUP spokeswoman would not confirm if the disciplinary action it took was due to his recent television appearance.
He was filmed on the BBC's Nolan Show on Wednesday, supporting Belfast pastor James McConnell who had recently made controversial remarks about Islam.
During a recent church service in north Belfast, the pastor described Islam as "heathen" and "satanic" and said he said he did not trust Muslims.
Mr Houston was a member of the audience on the Nolan Show.
During the programme, he was applauded for saying: "The Christians are starting to stand up. We're not having it any more. It's as simple as that."
Mr Houston said the media had "manipulated everything (Pastor McConnell) said".
He went on to say: "Why don't you go to his church for six months and then come out and tell him he's a bigot? He's not a bigot. He's a man of God."
He accused British politician George Galloway, a guest on the programme, of "scare-mongering", and told him to go "away back to Britain".
A UUP spokesperson said on Thursday that Mr Houston had been suspended with immediate effect, "pending an investigation into a number of issues".
She later confirmed that he had resigned.