Northern Ireland Pensioners Parliament meeting in Belfast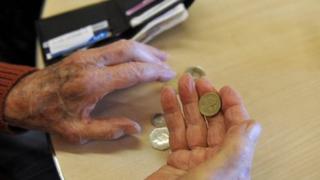 Older people in Northern Ireland remain concerned about the rising costs of energy and heating, according to the body that represents their views.
The Pensioners Parliament is having its annual meeting in Belfast on Thursday and Friday.
Issues for discussion include health and social care, as well as the struggle to keep warm.
Eddie Lynch, of Age Sector Platform, said more should be done to help pensioners pay to heat their homes.
"Age Sector Platform is calling for schemes to be set up to help older people on low incomes afford their energy bills," he said.
"There are schemes that operate throughout the rest of the UK and in the Republic of Ireland that allow people on low incomes to have discounts off their energy bills.
"So we're calling on the executive to look at introducing a similar scheme in Northern Ireland."
The issue of the health service will also take centre stage.
Michael Monaghan, chair of the Northern Ireland Pensioners Parliament, said: "Earlier this year we travelled the province hearing the views of older people in every county of Northern Ireland and we know that health and social care is a cause for concern for many of them.
"Some of the issues raised were age discrimination in the treatment of older patients, inadequate domiciliary care, crisis in our A&E departments and unfair employment conditions for carers."