Northern Ireland beaches win awards for water quality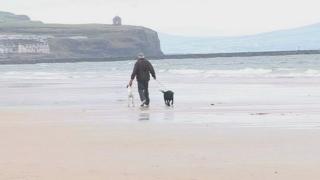 All of Northern Ireland's beaches have received awards for their water quality and cleanliness.
The 23 recognised bathing waters in NI received either Blue Flags or seaside awards.
Eight beaches and two marinas received Blue Flag awards, recognising excellent water quality and first-class visitor facilities.
A further 13 beaches received the UK-wide Seaside Award, which recognises beaches with good water quality.
Ian Humphreys, chief executive of Keep Northern Ireland Beautiful, the environmental charity that administers the awards locally, praised the efforts of beach operators.
"That so many beaches are again receiving awards reflects the hard work of individuals who strive to serve the public by providing the very best facilities and experiences, not just in the bathing season, but throughout the entire year," he said.
Alan Clarke, Northern Ireland Tourist Board, chief executive, said: "Northern Ireland's stunning coastline is one of our greatest tourism assets and keeping it clean and safe is of the utmost importance to us.
"By driving standards and safeguarding our environment, these awards play a vital role in helping not only showcase the high quality and beauty of our natural resources but also improve the overall experience of our visitors.
"I am delighted that this year Northern Ireland's coastline boasts an impressive 23 award winning beaches and marinas, offering an excellent choice of clean and safe places to spend the summer."