Folk musician Francis McPeake denies sex charges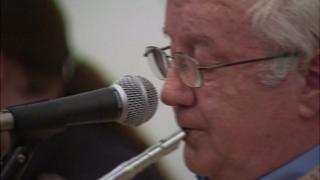 Folk musician Francis McPeake has gone on trial in Belfast accused of 12 charges of child sex abuse.
It follows alleged offences with a girl who was under the age of consent.
The 72-year-old, formerly of Eliza Street Close in Belfast, was aged around 67 at the time of the alleged offences
He has denied the teenager's claims and told police the girl was "attempting to destroy" his life.
Opening the case, a Crown prosecutor said the issue in this case was not one of consent, but one of an adult engaging in sexual activity with a child.
He also urged the jury to undertake a "cool, calm and careful assessment of the evidence".
Mr McPeake and the schoolgirl initially met around 2008 at a music event. In the summer of 2009, they both attended a music festival in the Republic of Ireland, during which she claims he kissed her and touched her sexually.
When they returned from the trip, the girl claims she and Mr McPeake began meeting regularly.
The court was told that she makes the case that when they had sex for the first time, McPeake expressed concerns about someone finding out as he had a lot to lose, but he loved her.
The prosecutor said it was the Crown's case that other sexual activity between McPeake and the schoolgirl occurred in his car, and on one occasion while her friend was also in the vehicle, with McPeake telling her to put her earphones in.
The girl's friend subsequently told another girl about what she had seen, and in a short space of time the teenager's mother heard about the allegations regarding her daughter and Mr McPeake.
When the girl's family confronted him, the girl said the allegations were lies, defended Mr McPeake and said he had done nothing wrong.
The prosecutor said that following the allegations and confrontation, it "wasn't as easy" for McPeake to have sex with the girl and that on one occasion when they went to Bangor, they thought they have been spotted by a relative of the girl's, which prompted Mr McPeake to ask his son to lie for him.
The court heard that in 2010, things came to an end as her family were suspicious, she said she was sick of sneaking around and lying.
The girl went to the police in December 2012, and Mr McPeake voluntary attended for interview in the spring of 2013.
Mr McPeake's solicitor read out a statement on behalf of his client, which said: "I have never done anything with this child."
He branded her allegations as "false, malicious and without foundation" and claimed he and his family had suffered due to a "campaign of harassment" from her and her relatives
"She is attempting to destroy my life," he added.
He then replied 'no comment' to questions that were put to him during interviews.
The case was later adjourned, after the jury was dismissed because of a legal technicality.