Northern Ireland mortgage lending up by 41% on last year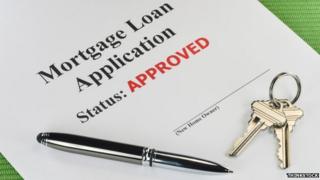 Mortgage lending in Northern Ireland during the first three months of 2014 was up by 41%, compared to the same period last year.
However, lending is down by 11% when compared to the last quarter of 2013.
The figures are contained in a report by the Council of Mortgage Lenders (CML).
The CML says the quarter-on-quarter fall is an "expected seasonal dip" and the trend over recent quarters is one of increased activity.
The report shows that the value of new loans for house purchases in the first quarter of this year was £240m, spread across 2,700 loans.
More than half of those loans - 1,600 - were to first-time buyers.
The typical first-time buyer in Northern Ireland borrowed 2.91 times their gross income in the first quarter of 2014, which was lower than the UK average of 3.42.
The typical loan size for first-time buyers in Northern Ireland was £72,000, which was less than the UK average of £118,750 in the same period.
Brian McCormick, chair of the CML in Northern Ireland, said there was a "strong upward year-on-year trend in Northern Ireland, showing growth in all borrower types".
He said it was "good to see affordability for first-time buyers remain at a more favourable level than the UK overall".