Sir John Gorman: War hero and unionist politician dies aged 91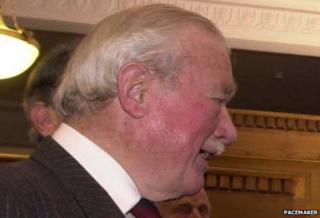 The former Ulster Unionist politician and decorated World War II veteran Sir John Gorman has died.
The 91-year-old Catholic from County Tyrone represented North Down in the Northern Ireland Assembly in 1998.
He served as an officer in the Irish Guards in World War II and was awarded the British military cross and the French Croix de Guerre.
After the war he joined the RUC, rising to the rank of district inspector during his 14 years in the force.
Sir John was educated at Loreto Convent grammar school in Omagh, Glasgow University and Harvard Business School.
He was a captain in the Irish Guards from 1944-1946, a district inspector of the RUC until 1960 and chief of security at BOAC from 1960-1963.
'Liberated'
He was also a regional manager for British Airways from 1969-1979 and president of the British Canadian Trade Association from 1972-1974.
Sir John was knighted in the Queen's Birthday honours list in 1998.
Ulster Unionist leader Mike Nesbitt described him as "one of a kind".
"It is rather poignant that on the very day we complete a European election count to return Northern Ireland's MEPs to Brussels, we should learn of the death of a man who liberated that city 70 years ago," Mr Nesbitt said.
"Sir John achieved success in a number of fields. He was a war hero who was awarded the Military Cross for his actions in Normandy."
Mr Nesbitt said he last met Sir John at a party meeting in Killyleagh in 2013.
"He was barely mobile and said he was there simply to support me. I was humbled by that gesture and in his death I am inspired to deliver better politics as a tribute to his memory.
"He truly was one of a kind and we are all the poorer for his passing. My deepest sympathies go out to his family and many friends."