European vote: NI MEP election count resumes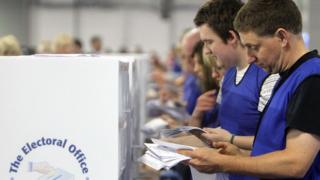 Counting to fill Northern Ireland's three seats in Europe has resumed.
On Monday, Sinn Féin's Martina Anderson retained her MEP seat after topping the poll in the European elections.
Diane Dodds, DUP, and Ulster Unionist Jim Nicholson did not reach the quota needed in the first count, but it is thought they will be returned as MEPs.
If that happens, it will mean no change in Northern Ireland's representation at the European Parliament.
Counting was suspended at 00:40 BST on Tuesday after almost 16 hours at the King's Hall in Belfast.
At stage four in the count, no other candidate reached the quota and Henry Reilly, UKIP, was eliminated.
It took just over nine hours for the first preference votes to be confirmed.
Martina Anderson took just over a quarter of the vote, with 159,813 first preferences.
Mark Brotherston, from the NI Conservatives, got the lowest number of first preference votes. He was excluded from the race and his votes were redistributed.
At 22:30 BST, it was announced that stage three in the count had finished without any other candidate reaching the quota.
Tina McKenzie, NI21, and Ross Brown, Green Party, were excluded and the process of transferring their votes began.
Chief electoral officer Graham Shields said the length of time it took for the count served to strengthen the case for an electronic voting system.
Nigel Dodds, the DUP MP for North Belfast and husband of sitting MEP Diane Dodds, called the "long, drawn-out process" a "travesty".
He said: "The Electoral Office has questions to answer about this. They need to fess up as to what's gone wrong."
Votes totalled 636,093 and the valid poll was 626,125. Turnout was just below 52%, compared to 43% in 2009.
Speaking after the results were announced, Alliance leader David Ford said it was the party's best ever result in a European election.
"It is proof that the Alliance message is resonating right across Northern Ireland and that people have responded positively to a pro-European candidate," he said.
Ten candidates have been competing for the three seats in Europe.
Although voting took place last Thursday, candidates had to wait until Monday to hear the results due to the Europe-wide voting process.
BBC News Online NI is providing comprehensive coverage with live and detailed news. Link to live coverage of the European elections here.
On social media, follow @BBCNewsNI and @BBCRadioFoyle on Twitter and BBC Newsline on Facebook.