Five men held after suspected bomb found in County Louth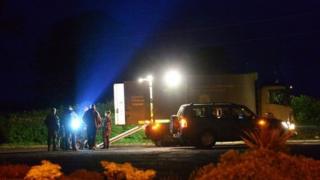 Five men have been arrested after a suspected bomb was discovered by police in County Louth.
The device was found in Kilcurry, north of Dundalk, near the border with Northern Ireland as part of an investigation into dissident republican activity.
The five who were arrested on Sunday are between 50 and 70, are known to police and have links to dissidents.
They have been detained at Drogheda and Dundalk garda stations.
The device is being examined by the Irish army.
John Mooney, the Sunday Times security correspondent, said he understood Sunday's arrests and interception followed a "long-running surveillance operation".
"There was a similar-type device seized in Lucan, outside Dublin last week," he told the BBC.
"It was understood, at that time, that device was one of four devices. I suspect that this is probably the second one.
"The gardai (Irish police) had been engaged in a wide-spread investigation, following dissidents who are thought to be active.
"I understand the seizure last night followed on from that."
He said the intended target was not known, but said some intelligence suggested it was a tactic to "embarrass Sinn Féin" following its European and local government election success.