Gerard Devlin jr denies attacking Francisco Notorantonio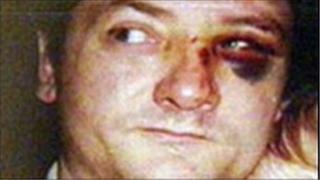 A west Belfast man has appeared in court accused of attacking his father's killer.
At Belfast Magistrates' Court, Gerard Devlin, 24, was charged with assaulting Francisco Notorantonio and possessing a screwdriver on the Glen Road on 20 May.
In November 2008, Notorantonio, then from Whitecliff Parade, was jailed for 11 years after he pleaded guilty to the manslaughter of Gerard Devlin snr.
Mr Devlin was stabbed during a fight outside his west Belfast home in 2006.
He died in front of his partner and children.
Four other members of the Notorantonio family were convicted for an offence of affray.
On Saturday, the court was told there was a "long-running dispute" between the families and that at around 15:00 BST last Tuesday, staff at St Theresa's Primary School called the police to report two men fighting outside the school gates.
Ear bitten
Both were later treated in hospital, the court heard - Mr Devlin for an injury to his ear and 27-year-old Notorantonio for stab wounds to his torso and left thigh.
At the scene Notorantonio alleged he had been attacked by Mr Devlin who he said had been armed with a screwdriver, telling officers that he bit his attacker's left ear "to distract him" as he tried to disarm him.
A police officer said police investigations had revealed the incident had been captured on the school's CCTV camera, describing how the footage allegedly depicted Mr Devlin initially attacking Notorantonio's car as it sat in slow-moving traffic, but was "dragged away" by a woman.
Twenty seconds later, he said, Mr Devlin ran back on screen, attacked the car again and it was then that Notorantonio got out and the pair fought for around 10 seconds before members of the public intervened and Devlin ran off.
Arrested and interviewed, Mr Devlin, from the Donegal Road, claimed he had been the victim and was defending himself, but refused to answer questions when the CCTV footage, allegedly in stark contrast to his claims, was put to him.
History of friction
The officer said police were objecting to bail on the grounds that if released, Mr Devlin could interfere with witnesses, reoffend and not turn up for court appearances.
Mr Devlin's solicitor submitted that given the history of friction between the families, there had been "enhanced allegations being made from both sides" in the past and that with stringent conditions, police concerns could be assuaged.
Refusing the bail application however, a district judge said he was "sadly, aware of the long and alarming history of dispute between these families" but that there was "too high a risk of of further offences" to release him.
He ordered Mr Devlin to appear in court again via video link on 5 June.