Vote 2014: Who's up and who's down after day one?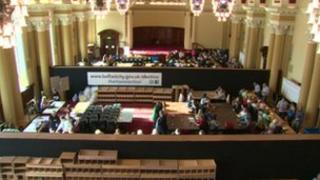 No local party has experienced a Nigel Farage-style surge, but the leaders with most to smile about seem to be the Ulster Unionist Mike Nesbitt and the TUV's Jim Allister.
Their candidates have polled well and there's the promise of more to come, for example from the UUP's Sonia Copeland in East Belfast.
For Mike Nesbitt it looks like a very satisfactory first election as leader, not just because of his party's showing, but also because the NI21 experiment, effectively a rebellion from the UUP's liberal wing, has ended in such ignominy.
While commentators focus on the changes, the DUP and Sinn Féin remain the dominant parties.
Both appear to have a slight decrease in their share of the vote, but it's hard to be definitive about this given the incomplete state of the count.
Independents success
The SDLP were always sceptical about the 11 council plan, not least because it robbed them of their two citadels in Downpatrick and Derry.
The results are bearing this out, although the impact of independents on SDLP target seats in Derry and Strabane was less predictable.
With the bigger areas meaning higher quotas, I had wondered whether the council shake-up might spell the end of independents trading on their reputations as local characters.
In fact quite the opposite has occurred with independents making their mark in Derry and elsewhere.
The victory of the left-wing People Before Profit's Gerry Carroll in West Belfast surprised many - evidence perhaps that the focus on welfare reform and the politics of fighting austerity has a resonance.
It's proof at any rate that heckling Nigel Farage in the centre of Belfast doesn't do a candidate any harm.
There had been lots of speculation that Alliance would pay a price in Greater Belfast for its handling of the Union flag issue.
So far that doesn't seem to have happened, with the party securing a victory in the north of the city, and generally holding its own, although the overnight figures show its share slightly decreased.
As the counts unfold, 20 will be a number to bear in mind.
With most new councils having 40 members, getting above 20 is the target to rule the roost.
But 20% is also potentially significant, as according to the new rules certain sensitive votes may require an 80% majority to pass.