Richard Barnett, University of Ulster vice-chancellor, to retire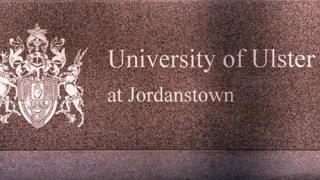 The vice-chancellor of the University of Ulster, Professor Richard Barnett, has announced he will retire next year.
Professor Barnett took up the post of vice-chancellor in 2006.
He first joined the university in 1990, after being appointed to the public finance and management department.
He said: "I have been fortunate to work with teaching colleagues dedicated to the student experience and researchers whose impact is changing lives locally and globally."
Construction is currently under way on a new £250m Belfast campus for the university.
Professor Barnett added: "A new era lies ahead for Ulster, and I am pleased to have been instrumental in laying the groundwork for the years to come."
Gerry Mallon, chair of the University of Ulster council, said: "It has been my pleasure to work with Richard on our shared future for the university.
"No-where is his vision for the future of higher education more evident than in his leadership of the plans for the enhancement of the Belfast City campus."
Professor Barnett will remain as vice-chancellor until March 2015.