Wife of Derry man Ciarán Ó Dochartaigh given deportation reprieve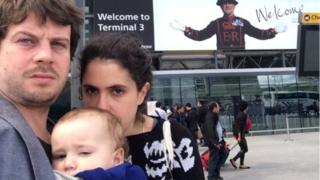 A Londonderry man's Colombian-born wife, who could have been deported on Friday, has been given a reprieve.
Laura Durán, the wife of artist Ciarán Ó Dochartaigh, had a deportation order deferred for six months after travelling to Heathrow with her family.
The pair, who have a one-year-old son, Emilio, said they are afraid the family will be broken up if Ms Duran was deported.
Mr Ó Dochartaigh said it was a "small victory".
He said it was the second time the family had gone to Heathrow in the last two weeks without knowing whether Ms Durán would be deported or not.
"But I think we were more determined this time that she wasn't leaving," he said.
"It's a respite. We can get ourselves together and continue fighting."
'Difficult six months'
He added: "This whole saga is unlawful anyway, what we're going through, and that's becoming apparent by the fact that they've let her stay for a temporary admission for this length of time."
Mr Ó Dochartaigh said the family's savings had been depleted by fighting numerous appeals on the case and that Ms Durán was not allowed to take on paid work while the case is pending.
"It's going to be a difficult six months. We're strong, but financially it's ridiculous all the different sort of payments for different levels of appeal we have to make.
"It's a very complicated case now."
The family, who live in London, had previously been told that Ms Durán must leave the UK at the end of May.
She was summoned to Heathrow on Friday, where it was thought she could be deported.
However, the family received a notice saying her case had been deferred until 23 November.
Mr Ó Dochartaigh said he did not know what would have happened to Emilio if his wife was deported.
He said his son currently has an Irish passport, but that authorities had taken it.
"We don't know, he may have been forced to stay with me. But that is the whole contention with this case, because to separate the two of them would be unlawful."
Residency refused
Ms Durán, who is also an artist, worked at the Turner Prize exhibition during Derry's City of Culture celebrations.
The pair met at a London art college in 2011.
Ms Durán was in the UK on a study visa, but after their marriage the following year they applied for permanent residence for her as the spouse of an EU national.
In October, last year her request was refused.
Their appeal was also turned down in April.
Ms Durán would be deported to America as she has dual Colombian and American citizenship.