Greyabbey drugs accused Phat Suong Chim freed on bail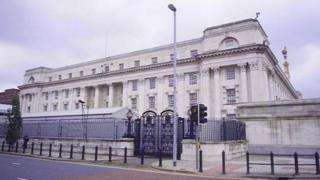 A restaurant boss accused of operating a £350,000 cannabis factory above his premises is to be released from custody, a High Court judge has ruled.
Mr Justice Weatherup granted bail to Phat Suong Chim based on the time being taken to deal with his case.
Noting the accused has already spent nine months behind bars, the judge said there was no chance of a trial being held before Christmas.
Mr Chim was granted bail to live at his home in Birmingham.
He was ordered to surrender his passport.
Mr Chim, 46, was arrested after police uncovered a large-scale drug-growing operation in rooms above his New White Satin restaurant in Greyabbey, County Down last August.
A woman found in the upstairs flat and a chef were also detained and charged.
'Sophisticated extraction system'
Plants, at various stages of growth and with an estimated street value of £350,000, were seized in the raid.
According to the prosecution, a sophisticated extraction system was used to stop any smell coming from the factory.
Up to £10,000 had been spent on equipment and kitting it out, it was claimed.
Mr Chim, with an address at Main Street, Greyabbey but who has lived in Birmingham for 25 years, denies charges of cultivating cannabis and possession with intent to supply.
His lawyers argued that he knew nothing about what was going on in the upstairs rooms he rented out.
Although he is allegedly linked by mobile phone traffic, defence counsel insisted there was no forensic evidence against his client.
Mounting a renewed application for bail, the barrister predicted Mr Chim will have been in jail for a year before his case is dealt with.
"If somebody from the United Kingdom was in southeast Asia and awaiting trial for a year, the British government and Amnesty International would be up in arms," he said.
"It's intolerable, the delay in this case. Mr Chim enjoys the same rights as any other citizen in the UK, he's innocent until proven guilty."
Agreeing with the submissions on delay, the judge said: "There's no prospect of his case being heard until Christmas."
He held that the accused has a settled family in England and was unlikely to flee.