Belfast crossbow attack: Man refused bail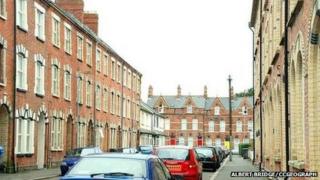 A man charged with attempted murder over a crossbow attack in south Belfast has been refused bail.
Thomas Anthony Cawley, 28, of Belgravia Avenue, Belfast, is also charged with possessing a crossbow and a hammer.
The charges are connected to the injuring of a man who was shot in the arm with a crossbow as he sat in a car in Belgravia Avenue on Wednesday.
His injuries are not thought to be life-threatening. Mr Cawley is due to appear in court again on 20 June.
A woman who was also in the car was not injured.
Opposing bail, a police officer told Belfast Magistrates Court: "Police believe Mr Cawley is a danger to the general public.
"At this stage, to protect the public we are opposing bail in the strongest terms."
Mr Cawley's lawyer said: "He denies committing any of the offences, he was interviewed three times over a period of 36 hours.
"The issue with regard to bail is that there's a paucity of evidence."
However, the police officer responded: "Mr Cawley was identified by the injured party, he was named by the injured party."
Refusing bail, the judge ruled there was a risk of re-offending and failing to turn up for trial.