Dublin-Monaghan bombs: Michael D Higgins in files plea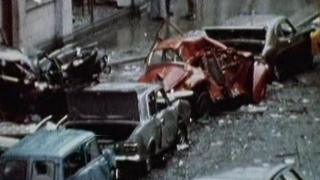 The Irish president has urged the British government to open up secret files on the Ulster Volunteer Force Dublin and Monaghan bombings.
Thirty-three people, including a pregnant woman, were killed and almost 300 people were injured when the bombs exploded without warning in 1974.
Michael D Higgins said more needed to be done in dealing with the fall-out of some horrific massacres.
He said the Dublin and Monaghan bombings in 1974 was one such case.
"A strategy of amnesia is simply not an option," Mr Higgins said.
"Asking people to forget about the past and to 'move on' is neither acceptable in a moral sense nor workable in political terms."
During a reception for Justice for the Forgotten - which campaigns for an investigation into alleged British state collusion in the 1974 murders - Mr Higgins said many questions remain unanswered despite a state inquiry and parliamentary hearings in Ireland into the mass killings.
The president said he hoped the British government could "find a way to respond positively" to a "measured and constructive proposal" to allow an international judge unfettered access to all official documents on the atrocity.
'Terrible atrocities'
Marking the 40th anniversary of the bombings, Mr Higgins said there was a collective responsibility to deal ethically with the legacy of the Troubles.
"Momentous anniversaries of terrible atrocities, such as this most significant one we are marking together today, are salutary reminders of the urgent need to find an ethical and holistic way to deal with the legacy of the Troubles in their totality," he said.
During his address at his official residence, Aras an Uachtarain, Mr Higgins cited his recent groundbreaking state visit to the UK, and the Queen's preceding trip to Ireland, as an example of how to deal with lingering hurt.
"As we progress towards such a better future, we must not forget those who died, those who mourn them and those who were injured," he added.
"And, confident in the maturity of the relationship between Ireland and Britain and in the durability of our friendship, we must be willing to encourage each other to do more in addressing the needs of victims and survivors.
"The Dublin-Monaghan bombings is clearly a case where more is required."