Chelsea Flower Show: Emma Sinnamon's floral dress wins award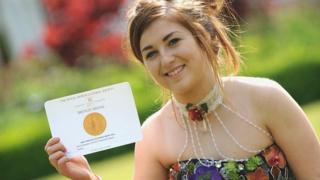 A County Armagh floristry student proved to have the dress for success after winning a prize at the Chelsea Flower Show in London.
Emma Sinnamon, who studies at Greenmount Agricultural College, entered a strapless dress decorated with real flowers and plants into the floristry section of the prestigious show.
The 20-year-old won a bronze medal for her creation, which had to fit the brief of being a floral dress suitable for a crystal ball.
The "delighted" student, who was making her debut as a competitor at the show, said the award was a "complete surprise".
She said the dress was inspired by a variety of different ideas she had encountered while studying.
"I made the dress from scratch, first by making the dress out of fabric and then putting on foliage. It took a couple of days to glue on all the flowers," she said.
'Walking florist shop'
On Saturday, Emma travelled over for the show having won a regional heat at Greenmount.
She was accompanied by fellow student Shannon Ormandy. The pair were the only two finalists from Northern Ireland.
Before the judging on Monday, Emma spent the weekend attaching orchids, ivy and other plants to the dress.
When wearing it, she said she "felt like a walking florist shop".
But, any discomfort was forgotten when it was revealed she had won a bronze medal for her work.
"The comments from the judges were really positive," she said. "There were 16 girls in the final and everyone had very different ideas. No one's was similar.
"The only negative was the flowers. We had to bring them over in a box on the airplane.
"They were not in perfect condition, but that was the only problem."
Methodical
Anne-Marie Grant, a tutor from Greenmount who travelled with Emma to the flower show, said: "She's absolutely fantastic and has worked very, very hard.
"She's always been willing to jump into a project and say,' let's have a go at this'.
"She's very methodical in her planning and organising, and she knew exactly what she wanted to do. It was a real pleasure having her over at the show."
Emma, whose father is a gardener at Castlewellan Forest Park, said she developed an interest in floristry at a young age.
"I think I got the interest from my father. It's a really creative thing to do and I wanted to do something creative when I left school. So going to Greenmount was perfect."
She said the Chelsea Flower Show was a "great experience".
"There was a lot to see and it gave me lots of inspiration and plenty of new ideas."
Anne-Marie added: "Emma winning a bronze medal will give her inspiration to push on. It definitely gives the other students a bit of inspiration to say, 'you know what, I'll give this a go'."