Almac: Craigavon-based group's profits up by 33%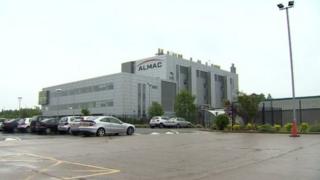 Almac, the Craigavon-based pharmaceutical group, increased its pre-tax profit by 33% in 2013, making £19.2m, up from £14.4m in 2012.
Turnover also increased, up by 8% from £300m to £325m.
The company added another 100 employees over the year, giving a total of 3,200 people who received wages of £111m.
Almac has a major operation in the United States and recently opened an operations centre in Singapore.
The company provides services to other pharmaceutical firms, as well as developing its own products, mainly in cancer diagnostics.
The directors said that during the year the firm had continued to invest in research and development and capital programmes.
They added that the performance for the year showed "sustained progress" towards the firm's long-term objective of becoming the leader in its chosen markets.
Almac was formed in 2002, born out of Galen Holdings which was founded in 1968 by Sir Allen McClay.
Sir Allen died in 2010 and the firm is now owned by the McClay Foundation.
The pharmaceutical sector in Northern Ireland has been one of the strongest economic performers in recent years.
The most recent official figures show the sector growing at an annual rate of almost 8%.