Lisburn and Castlereagh council: Awkward marriage for new council-mates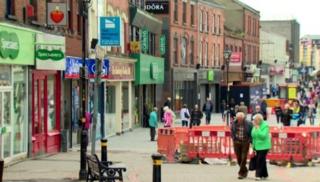 The people of Dundonald are wondering what they have done to deserve Lisburn, or at least the ones we speak to are.
"Doesn't make any sense to me why this side of the city has been attached way over to Lisburn," said butcher Glenn Ferguson.
"Lisburn seems like far away to me. I don't know really why they're doing it," said a woman whose hood is pulled up to protect her from the driving rain.
The "it" she is talking about is Lisburn and Castlereagh, one of the 11 new district 'super councils' that voters in Northern Ireland will elect on Thursday.
Natural fit
Sixty percent of the old Castlereagh Borough Council area is included in the new district, but the problem for many residents is that Belfast, rather than Lisburn, feels like a more natural fit.
"The people of Ballybeen estate really don't have anything to do with Lisburn," said Mary Morrison of the Castlereagh Lifestyle Forum.
"Lisburn's quite a way away for them and older people are thinking 'well, how's that going to work'?
"What about our Ice Bowl? What about our hospital? Nobody's too clear about the boundaries, that's the problem for older people."
Her friend, Elizabeth Neill, agreed.
"We have a city here, Belfast city, and we're going to be put into Lisburn but it's too far away," she said.
Of course, Lisburn has a say in this as well, but as it's likely to be the dominant partner, feelings are unlikely to be running nearly as high there.
However, former Lisburn councillor and MLA Seamus Close was just as outspoken.
He called it a "mishmash" and a "hotchpotch".
"The emphasis about local government is the word 'local' - it is about communities; it's about bringing communities closer together; it's about having a sense of identity, " said the former politician.
"In the name of goodness, what identity does Dundonald have with any part of Lisburn? I'm not saying that in any derogatory sense about Dundonald.
"I'm sure if you ask the people of Dundonald, they would say exactly the same.
"And what are we going to get as a result of this? We are going to get people further switched off, fed up with politics, a further disconnect and it's all wrong - it's not in the interests of anybody."
The former local government boundary commissioner, Dick McKenzie, said the decision to combine Lisburn and Castlereagh was taken by the Northern Ireland Assembly rather than him.
"My task was to take the whole or the major part of Castlereagh and the whole or the major part of Lisburn, and construct a new boundary with Belfast," he said.
His original model was rejected. The boundary was redrawn to include Forestside shopping centre and the current Castlereagh Council offices nearby.
But apart from that, he said, few people objected.
"I was really rather quite pleased with the limited number of objections I got to my proposals when I put them out for consultation a few years ago," said Mr McKenzie.