NI21 candidates 'engage in pre-poll civil war'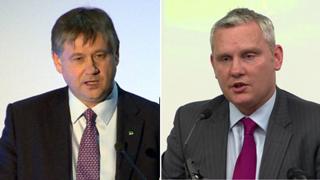 Most new parties fighting elections crave publicity, as the broadcasters' guidelines based on previous electoral performance makes it hard for them to cut through.
However. the kind of publicity currently enveloping NI21 one day before the polls open cannot be categorised as anything other than a self-inflicted wound.
When Basil McCrea and John McCallister created NI21 they kept their unionist designation at Stormont because both were avowedly pro-union.
Yet as soon as their candidates hit the campaign trail and proclaimed themselves as alternatives to Orange and Green politics, NI21 was bound to be hit with the designation question.
Last month, on Radio Ulster's Inside Politics. Tina McKenzie stuck to the previous party line declaring that "I'm no other".
Then, on Tuesday, it was all change as the NI21 executive announced their MLAs would be dropping their unionist label at Stormont as soon as possible.
The re-designation would take NI21 into the same territory as Alliance and the Greens. That might appear to be sensible politics in South Belfast.
But it was always going to pose problems in South Down, where a unionist label appears far more necessary to guarantee John McCallister's re-election.
Some NI21 activists see Mr McCallister's decision to go public about his opposition to re-designation as disloyal.
But if such a fundamental decision was taken without properly consulting the deputy leader, then it so clear something is very wrong in the NI21 camp.
'Civil war'
For years now, Basil and John have seemed just as much of a double act as Eric and Ernie or Ant and Dec.
Yet on Wednesday morning, asked by Stephen Nolan if he trusted John McCallister and if the South Down MLA remained his best friend, Basil McCrea engaged in diversionary political waffle about the NI21 movement being bigger than either individual.
It is clear that apart from the political disagreement, there are other personality differences and internal staffing matters that appear to have torn the political partnership apart.
Now these tensions are playing out in an extraordinary manner on social media.
This is not the first election in Northern Ireland in which the internet has played a role, but it is the first in which candidates from the same party have used Twitter and Facebook to engage in a pre-polling civil war.
So we have accusations flying between the two camps of "dinosaur politics", "megalomania" and there being "more wholesome goodness" in the deputy leader's slurry tank than on the part of his detractors.
The new party's slogan of Aspire To Better was meant to refer to society in Northern Ireland. Today, it seems it could be applied to NI21 itself.