NI21: Basil McCrea challenges John McCallister on 'dysfunctional' claim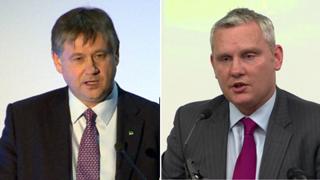 The leader of Northern Ireland newest political party, Basil McCrea, wants an explanation from his deputy for calling NI21 "crazy" and "dysfunctional".
John McCallister used the words in a News Letter interview after his party's decision on Tuesday to switch designation from "unionist" to "other".
It comes just two days before European and local government elections.
Mr McCrea said it was disappointing that Mr McCallister made his disagreement "in a very public way".
'No man's land'
"There is some discomfort in the way that was done," Mr McCrea told BBC Radio Ulster's Nolan Show on Wednesday.
"I do think there is an explanation that is owed to me - not just me but to other people - it was something of a surprise in the way that we heard things."
NI21 was set up by MLAs Mr McCrea and Mr McCallister, after they quit the Ulster Unionist Party in 2013.
On Tuesday, the decision to change designation was announced, in response, the party said, to the message they had been receiving from people while canvassing.
But Mr McCallister told the News Letter the move put NI21 "right into no man's land with the Alliance Party".
He said he had not been consulted in advance and had been called at short notice to a meeting on Tuesday.
"I was literally told to come down from my constituency to Belfast to do it, with no idea what it was about," he told the News Letter. He said that the meeting consisted of a "15 or 20-minute discussion with everyone keen to get back out canvassing". He voted against the change.
'Not about individuals'
However, Mr McCrea defended the move, saying labels from the past were inconsistent with NI21's message.
"It is not John and I - the executive takes the decision. The party has developed into a political movement which attracts huge numbers...The party is bigger than either individual," he said.
"It is not about individuals or what they think about, it is what the party collectively thinks."
Mr McCrea said the NI21 executive would have a discussion with Mr McAllister about his comments.
Messages posted on social media by party activists suggested a split in grassroots opinion about the move.
A post on the NI21 Youth Twitter account said "the lack of respect shown towards our deputy leader was disgusting, and we fully support John McCallister".
However, the tweet was later removed, and a later message said it was made by someone with access to the account but not approved by the Queen's University Belfast NI21 society.
"While the message was perceived as aggressive, we do support its fundamental message," it added.