Body found by primary school children in County Londonderry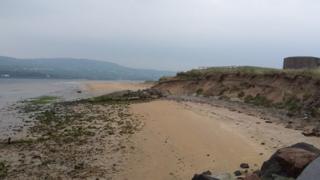 Police have launched an investigation after a man's body was discovered by primary school children on a County Londonderry beach.
The body was found at Magilligan Point on Tuesday morning.
Pupils from the Model Primary School, Derry, made the discovery during a field trip.
A post-mortem examination will be carried out to determine the cause of death.
Paul Sheridan, principal of the school, said the P7 pupils found the body while beach-combing.
"A group of five children, three girls and two boys, came across the body," he said.
Praise
"The children told their teachers - there were two with them - and the authorities were immediately contacted."
Mr Sheridan said parents were informed when the pupils returned to the school.
He said the pupils "deserve much praise for their maturity in this very unfortunate situation".
"They saw the body from a short distance away and then they did the right thing by telling their teachers.
"We spoke to the children and got them to share their experience.
"Our designated child protection teachers were involved and informed all other parents of pupils from that class. We advised them to keep an eye on their children tonight."
He added: "They are all fine. I expect them back in school tomorrow and to have them back into their routine.
"The school counsellor is on stand-by should the children feel they need to speak to someone.
"The school extends its sympathies to the family of the man, they are in our prayers"