No prosecutions over Northern Ireland bus alcohol law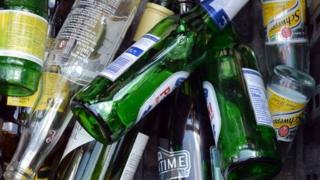 No private bus or coach operator has ever been prosecuted for allowing a passenger to drink alcohol on board, despite a law introduced in Northern Ireland in 2011.
It is illegal for bus operators to allow alcohol to be drunk on their vehicles on the way to sports fixtures.
The legislation was introduced by the Department of Justice in August 2011.
However, the PSNI have said they have never detected any cases of an operator or driver committing an offence.
In addition, they have never prosecuted any passenger for drinking alcohol on a bus or coach on the way to a sports match.
It is currently the only legislation that makes it an offence for a private bus or coach operator to allow passengers to drink on their vehicles.
In July 2013, the Department of the Environment launched a consultation that proposed to make it an offence for any private hire company to allow alcohol on their buses.
This followed concern about so-called "party buses" where drink was allowed on board.
However, that consultation could not find a "clear consensus" on introducing any wider legislation.
Then, in the aftermath of a major incident at the Odyssey Arena in February 2014, where more than 100 young people had to be treated for the effects of drink and drug use, similar concerns were raised.
A report into the incident by the Odyssey Trust called for a review of the legislation governing alcohol consumption on buses, among other measures.
However, as the response to offences under section 40 of the Justice Act (NI) 2011 shows, even where legislation is introduced, no actual prosecutions may result.