Michael McKevitt: Real IRA leader's appeal bid fails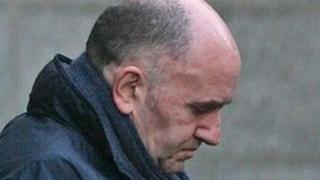 An Irish court has rejected an attempt by a Real IRA leader to bring a new appeal against his conviction for directing terrorist activities.
Michael McKevitt, 59, from Beech Park, Blackrock in County Louth was convicted in 2003 and sentenced to 20 years in prison.
He was the first person in the Republic of Ireland to be jailed for directing terrorist activities.
An appeal against his conviction was dismissed in 2005.
A further application to the Supreme Court was rejected in 2008.
In a landmark civil case in 2009, the High Court in Belfast ruled McKevitt and three other men were responsible for the 1998 Omagh bomb that killed 29 people and unborn twins.
The other three men were Liam Campbell, Colm Murphy and Seamus Daly.
His latest attempt to secure an appeal against the direction of terrorism conviction centred on the legality of a warrant.
At the Court of Criminal Appeal, his lawyers had argued that a search warrant used to search his home was issued under Section 29 of the Offences Against the State Act, legislation that was later found to be unconstitutional.
They said this amounted to a "newly discovered fact".
They also argued that there was no obligation on McKevitt to have raised an issue about the constitutionality of the warrant at his original trial.
'Entirely misconceived'
The lawyers wanted these matters referred to the Supreme Court.
However, on Tuesday the Court of Criminal Appeal ruled that McKevitt's application was "entirely misconceived".
The court ruled that the case had reached finality many years ago and the matter could not now be revisited.