Interest rates rises to hit NI 'hardest', says report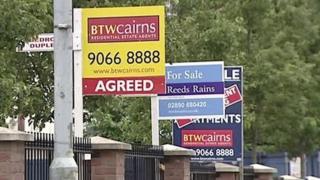 Future rises in interest rates will hit Northern Ireland homeowners hardest, according to a new report by a London-based think tank.
According to the Resolution Foundation, about one in six people with a mortgage in NI are in danger of their repayments becoming unaffordable by 2018.
This is a higher proportion of people than any other UK region.
The organisation said they are at risk of becoming "mortgage prisoners" because of rate increases.
Northern Ireland mortgage holders are classed as the most vulnerable because of a drastic slump in property values since 2007.
This has left many households in negative or limited equity.
'Fully exposed'
Because of this, the Resolution Foundation said they are "likely to be restricted in their ability to renegotiate their borrowing".
The group added: "Instead of switching to more competitive deals, this most vulnerable group will have little option but to repay at their lender's standard variable rate, leaving them fully exposed to changes in the Bank of England's base rate."
The rate has been historically low at 0.5% for three years, but the think tank says this is expected to climb to almost 3% by 2018.
Meanwhile, the latest data on house prices shows limited growth for Northern Ireland.
Figures for March from the Office of National Statistics state that prices were 0.3% higher than a year ago.
However, properties are still only worth half what they were at the height of the market in 2007.
The advice charity, Housing Rights Service (HRS), said a 2% rise on a "typical" £150,000 Northern Ireland mortgage could push up monthly repayments by £183.
For interest-only mortgages, monthly payments could jump by an extra £250 per month.
"A lot of people bought during the property boom and are just about meeting their mortgage commitments," said HRS policy manager Nicola McCrudden.
"It is imperative for political and financial leaders to recognise that whilst an interest rate rise may curb a potential housing bubble in London, it could have devastating consequences for homeowners in another region."