Ballymurphy shootings: Coroner asks for evidence review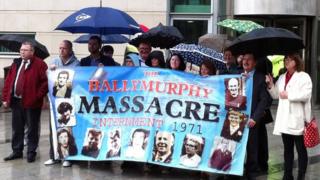 The Coroner's Office is to ask the state pathologist to review evidence in the cases of 10 people shot dead by the Parachute Regiment in the Ballymurphy area of west Belfast.
The coroner has also instructed a a lawyer for the Ministry of Defence to find out if weapons used in the 1971 shootings still exist.
If so, the coroner wants to ensure that they are not destroyed.
The family of one of the victims is seeking to have his body exhumed.
Joseph Murphy 's relatives said a bullet was left in his body at the time. They are currently seeking the exhumation to help with the inquest.
Ten people were shot dead by soldiers in west Belfast, in August 1971. An 11th person died of a heart attack after a confrontation involving a soldier.
Northern Ireland Secretary Theresa Villiers announced at the end of April that there would not be an independent review into the killings. She said she did not believe reviews would uncover evidence not already in the public domain.
Members of the Parachute Regiment claimed they opened fire after being shot at by republicans during Operation Demetrius, when people suspected of paramilitary activity were interned.
A Catholic priest and a mother-of-eight were among those killed over a three-day period.
After an application from the families, the attorney general directed the coroner to re-open inquests into the deaths in November 2011.