First Derivatives makes pre-tax profit of £7.9m in past year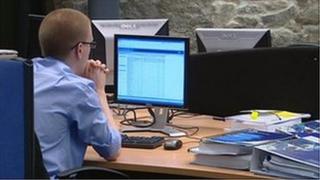 The County Down-based technology firm First Derivatives has made a pre-tax profit of £7.9m in the past year.
That was a 29% increase on the previous year's profit of £6.2m.
First Derivatives makes financial analysis software used by investment banks and stockbrokers all over the world. It is one of only two stock market listed companies in Northern Ireland.
The company employs 900 people, mostly based in Newry.
Overall turnover increased by 24% to £69.9m in the year to 28 February, up from £56.5m a year earlier.
The company said it had seen an increase in sales from both its software division and its consulting business.
First Derivatives also has offices in New York, Shanghai, Sydney and Dublin.
During the year it invested in expanding its sales force and established a regional hub in Singapore and satellite offices in Hong Kong and Japan.
Seamus Keating, chairman of First Derivatives, said: "The current fiscal year is set to be a pivotal year for the group as we gain traction in the target markets for our software. We have a strong business in consulting with an expansive capability and have confidence in our ability to grow this as we have done in previous years.
"The pipeline across the business is strong and as the year progresses we expect to demonstrate progress in the areas we are addressing. We have invested to ensure the group is in a strong position to capture market share in software and consulting and consequently expect to report further progress in the year to 28 February 2015."