Queen's Baton Relay arrives in Northern Ireland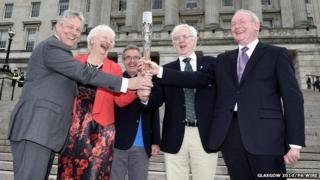 The Queen's Baton has arrived in Northern Ireland for a four-day tour.
The baton relay is the main curtain-raiser for the Commonwealth Games, which will be held in Glasgow between 23 July and 3 August.
It was presented to Northern Ireland's First Minister and Deputy First Minister on the steps of Stormont by Dame Mary Peters earlier on Tuesday.
The baton was then carried down Prince of Wales Avenue by pupils from St Ita's and Knocknagoney primary schools.
'Damp and soggy'
Following a quick relay to Scrabo Tower, Conlig, the Queen's Baton was then taken to the Aurora Aquatic centre in Bangor and a gathering of young swimmers who hope to be part of the Northern Ireland Commonwealth Games' team in the future.
The BBC's Simon Dedman said: "It started this morning at a rather damp and soggy Stormont. Local school children carried the baton down the Royal Mile with the Commonwealth Games' mascot, Clyde, in tow.
"This afternoon it was taken by RNLI lifeboat from Bangor to Carrickfergus and then escorted into the castle by about two dozen Sea Cadets."
The Queen's Baton visited the Sports Institute Northern Ireland and Ballymena Bowling Club later.
It will make its way to other parts of Northern Ireland including Londonderry, on Wednesday, Thursday and Friday,
The baton is the Commonwealth Games' version of the Olympic torch.
Sealed message
While the flame was passed between the runners on different torches for the Olympics, the Queen's Baton itself is passed between the baton bearers.
It contains a sealed message from Queen Elizabeth II that will be read out at the opening ceremony.
Her Majesty placed it inside the baton on 9 October last year during a ceremony at Buckingham Palace. Since then, the baton has travelled around the Commonwealth.
By the end of the relay, the journey will have taken 288 days over a distance of 118,000 miles (190,000km).
The baton has been on an extensive journey around the world, visiting 63 nations and territories of the Commonwealth in the past seven months.
After visiting the Commonwealth countries in Asia, it travelled through Oceania, Africa, the Americas and the Caribbean before it made its way back to Europe.