Belfast Rapid Transit: £20m to be spent on new buses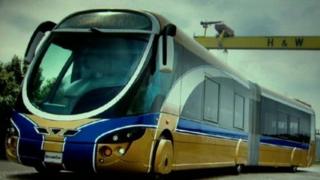 Transport Minister Danny Kennedy has confirmed £20m will be spent on new buses for the Belfast Rapid Transit (BRT) system.
He also said work has officially started on the BRT with the construction of a 520 space park-and-ride facility in Dundonald.
The BRT will link the city centre with west and east Belfast and the Titanic Quarter.
It is expected to be fully operational by 2017.
The minister said £20m would be spent on 40 "rapid transit vehicles" that will be in delivered in three years.
The vehicles are state of the art larger buses that will operate along the routes every five to eight minutes at peak times.
Speaking about the new park and ride facility, the minister said: "This facility is due to become operational by the end of 2014 and will be served by existing buses until the start of Belfast Rapid Transit services in 2017.
"It will further enhance the park and ride offering for commuters travelling to Belfast, in particular those travelling from the Ards Peninsula."
Construction on the rapid transit routes in east and west Belfast is expected to start next month.
BRT halts will be built along the routes and will be raised to facilitate wheelchair users, elderly people and parents with pushchairs.