Whiteabbey Methodist Church damaged in overnight arson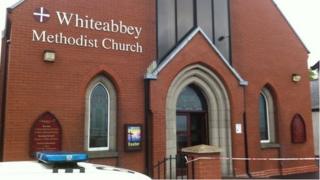 A church in County Antrim has been damaged in an overnight arson attack.
Arsonists broke in through the front door of Whiteabbey Methodist Church, on Shore Road and tried to light three fires inside the premises.
A kitchen at the rear of the church was extensively damaged in the blaze, that was reported at about 23:00 BST on Saturday.
Fire crews said they were able to stop the fire spreading to the main church.
Rev Pauline Lorimer said she was disheartened by the incident.
"I don't see how anybody can get any kind of kick out of destroying something that's good," she said.
"We had to have our service this morning in the Presbyterian church halls, which they very kindly opened for us.
"The church is badly smoke damaged and the forensic people have only just left.
"The halls are just newly finished and people are very proud of them. It's sad to see them being destroyed like this."
The police have appealed for witnesses.