Daniel O'Donnell's mother, Julia, dies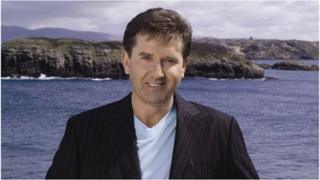 Singer Daniel O'Donnell has announced the death of his mother Julia.
The 94-year-old passed away in Dungloe Community Hospital, County Donegal, in the early hours of Sunday, with her family at her bedside.
Mrs O'Donnell was well-known among her son's fans for hosting tea parties at their family home in Kincasslagh, County Donegal.
O'Donnell made the announcement on his website, in a post titled 'rest in peace Mam'.
He wrote: "It is with great sadness that we have to announce that our dear mother, Julia, passed away peacefully in the loving care of the staff of Dungloe Hospital surrounded by all her family on Sunday, 18 May at 3.50am.
'Gentle soul'
"My siblings John, Margaret, Kathleen, James and myself would like to thank you all for the kindness you have shown to her down through the years. May her gentle soul rest in peace."
His wife, Majella O'Donnell, tweeted: "It is with sadness that I announce the death of Daniel's mother Julia, rest in peace...".
O'Donnell once described his mother as "the biggest influence on my life" and that her encouragement had led him to become a singer.
Earlier in the week, the singer had returned from touring in Scotland after his mother took ill.
Julia, originally from Owey in County Donegal, moved to Kincasslagh when she married Francie O'Donnell.
After her son's musical success, her home in Kincasslagh became a mecca for thousands of fans, who flocked there for annual tea parties.
Funeral details are currently being arranged.